Giving Sole was founded by 10-year-old Gavin Henss and his parents. Giving Sole has a simple yet powerful mission: to remind foster children that they are more than their circumstances and that their voices matter. It's a mission that's been close to the Henss' hearts ever since they became a short-term foster family to a little girl.
"After our [foster daughter] left our home, we weren't emotionally ready to foster another child," says Gavin's dad, Shawn. "But Gavin still wanted to find a way to support children in foster care. He wanted to help."
Gavin and his parents weren't sure what this help would look like until the basketball game that catapulted Gavin into Internet stardom. After seeing the impact his sign made on so many sports fans, Gavin and his family decided to use this same message as the platform for Giving Sole.
In homage to the charity's inspiration, Giving Sole gifts children in foster care brand new athletic shoes in a branded Giving Sole bag. Along with each pair of shoes is a handwritten note from Gavin with inspiring messages like, "I can't wait to see what you'll grow up to be" and "You are so much more than your circumstances."
Gavin and his parents hope each message reminds kids that their voices matter, and that the shoes are a constant reminder of their inherent worth. It's also why Giving Sole gifts only brand new, brand name shoes.
"When you're a kid, walking into school with a brand-new pair of Nike or Adidas shoes is a big deal," says Gavin's dad, Shawn. "We want to give these kids not just what they need, but what they deserve."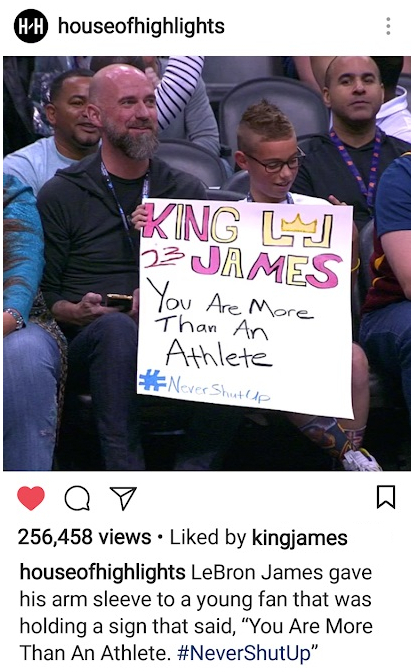 Why It Matters
Arizona has one of the country's highest proportions of children in the foster care system. As of 2017, an estimated 14,000 children were either awaiting foster families or living with foster parents in the state.
The goal with foster children is to reunite them with their biological parents, so many foster families are temporary caregivers. This means many foster children arrive at their foster parents' homes with only the clothes they're wearing and often without any way to carry their possessions.
Though foster families receive a small monthly stipend while caring for these children, this stipend often only covers expenses related to childcare or basic necessities. Something as simple as a new pair of shoes is considered a luxury.
Gavin and his family hope the shoes provided by Giving Sole make foster kids feel special and that the bag they send these shoes with can be used to hold their possessions if and when they move between homes.